Testimonials from Mark's Students
World Renowned Percussionist Daniel de los Reyes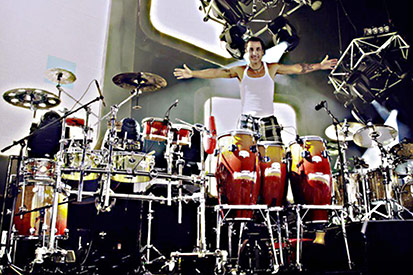 Through the years I have know Mark to be a very conscientious and caring person. Mark is a very versatile performer, both as a drummer and a percussionist. He not only covers all the traditional percussion instruments but has an understanding of world percussion instruments. As a very experienced performer and teacher he can be a great asset to any situation. ~ Daniel de los Reyes
Jessica J., parent of Landon
Our son, Landon, wanted to start taking drum lessons. He started when he was nine years old. He has been taking lessons from Mark for a year. His progress has been remarkable. Mark is very passionate about percussion, and he is a patient teacher. My favorite thing about Mark is that he pays attention to the details and wants his students to learn correctly from the beginning. I would recommend him to anybody interested in learning percussion.  He teaches adults too!
Phil Kaz of Las Vegas
"I've been studying with Mark for 4 years. He is well versed in all facets of drums and percussion including rudimentary , full drum sets, and hand percussion. He is very knowledgeable, patient and I have learned much from him. "  
~ Phil Kaz,  student and friend.
Debbie Cenna: Conductor of the Guardian Angel Cathedral Orchestra
My piano students really enjoyed Mark's hands-on drum workshop. It was fun to learn about the various kinds of percussion instruments and to participate in a drum circle. They left the workshop with a new perspective on rhythm and talked about their experience for weeks afterward. – Karen Eastey, President Las Vegas Teachers Association
For the last few years, Mark has been an exceptional percussionist at the Guardian Angel Cathedral here in Las Vegas. His conscientious and versatile ability as a performer has been a great addition to our orchestra.
Patricia Metzger
I have studied Marimba with Mark Kimpton for more than 5 years.  Every lesson is focused, informative and enjoyable.  He is unwaveringly focused at every minute of every lesson on the study material at hand.  He is extraordinarily knowledgeable about both the instrument and the music to be studied.  Last, but certainly not least, I can hardly wait for my next lesson.
My technique and musicality have steadily improved.  I have learned more than I even dreamed I would about the music and more than I thought I could learn about playing my instrument.
I do not know how to say with words the joy my lessons have brought me!  My playing ability has far surpassed my expectations!   And, I can hardly wait for my next lesson day to arrive!
Study with Mark.  You will be completely satisfied with every lesson!
– Mark's Student, Patricia Metzger